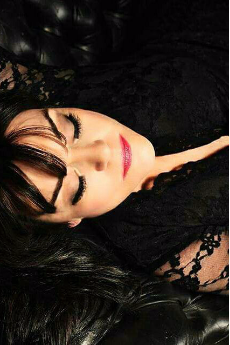 4420 views
"If you had but one voice it should be Seay, she will leave an impression on your spirit, and it will be a blessing"
- RJ Lannan
With her distinct voice and evocative sound American born artist and humanitarian Seay (pronounced 'say') has gained prominence as both a vocalist and composer. Originating her signature vocals and uplifting sound the beauty of Seay's award winning artistry touches a universal chord and has drawn listeners from across the globe releasing acclaimed albums and singles in the Pop, World and New Age genres airing on radio, satellite and syndicated programs with several million plays of her videos.
With classical training in both voice and music, Seay's formative years were spent playing piano, studying voice and traveling with her family throughout the Far East while her father an army physician finished his medical residency. Growing up in a rich creative Renaissance household, Seay was exposed to the arts and the world's cultures for much of her life. She later attended the Sotheby's Art Institute in London with graduate studies in Decorative Art. It was while living in England and returning to her families english roots, her music journey began singing on projects for song publishers Carlin, Motown, Warner Chappell Music, artists Elaine Paige and Annie Lennox and performing in London's music scene. "I have always felt like I am a citizen of the world and my creativity reflects that with universal themes and inspirations."
In recent years, Seay has forged a evocative style of music as a vocalist and songwriter along with studies in music therapy and several healing practices. Under her own label, Tuscan Sun Music, Seay released her debut album '1 Voice' an album of world influences and celestial vocals with selections featured on the launch of XM's HD Surround on Finetuning alongside Sting, Ray Charles, Enya and Norah Jones. Her seasonal album, 'A Winter Blessing' with several renowned guest instrumentalists, was named on Mainly Piano's Top 30 albums of the last decade . Her inspirational single and video 'All Around The World' celebrating those common ties that join us, has been apart of humanitarian events which include the opening ceremonies of World Peace Day and the theme for Project Peace on Earth's Love All Simulcast live from Bethlehem, Palestine on Christmas Day 2012, seen by people across the globe for which she is a musical ambassador. Seay and her vocal chant piece "Orion's Gate" is also on Project Peace on Earth's 2 Unite All Volumes 1 and 2 with 26 world artists including Peter Gabriel, Roger Waters, Stewart Copeland, in support of The United Nations World Peace Initiatives.
Seay's music is also a regular addition to the syndicated channels Sirius Spa, Music Choice Soundscapes and the Care Channel airing in over 900 hospitals, health and wellness centers. Her most recent release the breathtaking and critically acclaimed "In The Garden" celebrating the earth charted on the Billboard New Age albums chart for 5 weeks peaking at #3.
Seay has been blessed to work and perform with many gifted musicians, in film, television, advertising and as a guest artist which include Annie Lennox, Cher, Elaine Paige, Clay Walker, Crystal Gayle, Ricky Kej, Stephen Peppos. Her recent vocal work includes participation on the world music project "Shanti Samsara" launching the United Nations COP21 Climate Change conference in Paris produced by Ricky Kej. One of the special honors of her musical career has been performing a benefit concert of the songs of Oscar Winning Lyricists Alan And Marilyn Bergman, with the Bergmans in attendance.
Seay is also visual artist. Her artwork can be found in private collections and her exhibit "The Power of Sound" has been seen on ABC Lifetime channel and in venues which include The Nashville Jazz Workshop, The Songwriters Guild and Universal Music.
She currently lives in Nashville, Tennessee where she continues singing, writing and creating from her studio. Seay is a voting member of The Grammys, a SESAC affiliated writer, a Music Ambassador for Project Peace On Earth and a CARE Artist on the Care Channel.